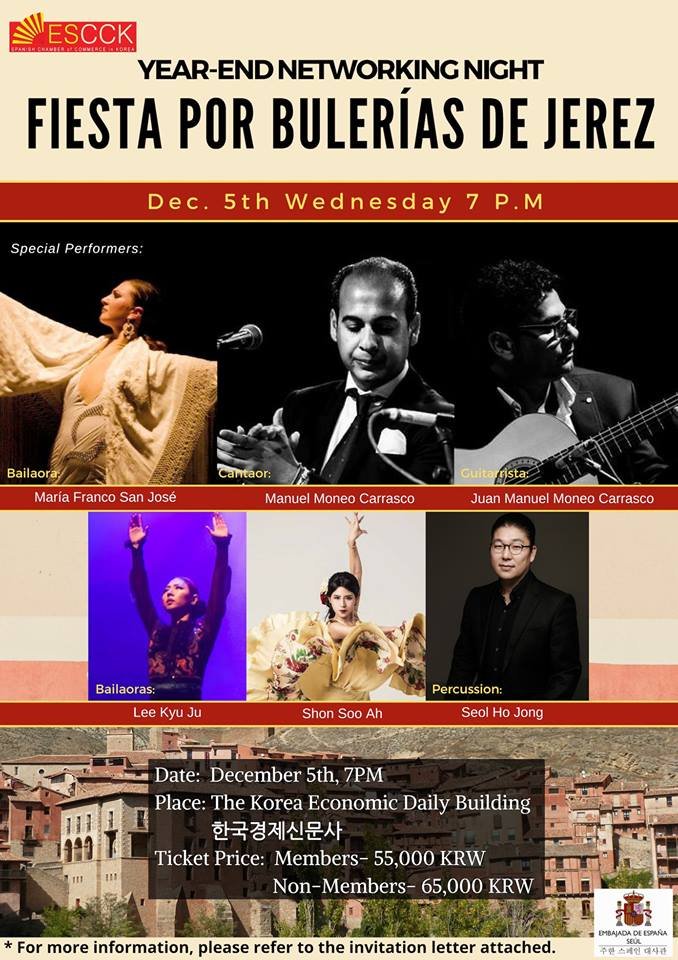 Best chance to enjoy Flamenco show in Seoul – ESCCK
ESCCK is pleased to invite you to this exclusive Flamenco Show, 'Fiesta por Bulerías de Jerez' on December 5th at Korea Economic Daily Building.
We have invited 'Bailaora' María Franco San José, 'Cantaor' Manuel Moneo Carrasco and 'Guitarrista' Juan Manuel Moneo Carrasco from the hometown of Flamenco, Andalucía, southern Spain. They will be performing the authentic Flamenco, which will deliver the very essence of this art.
During the event, you will be able to enjoy the Year-End Networking Night as well with food and drinks.
Date: December 5th, 7 PM
Venue: The Korea Economic Daily Building 18F: 463 Cheongpa-ro, Jungnim-dong, Jung-gu, Seoul
Ticket: Member 55,000 Won / Non-Member 65,000 Won
Payment Method: Bank Transfer
Shinhan 140-011-109795
Account holder: 주한스페인상공회의소 / ESCCK
Reservation Details:
Please send an e-mail to info@escck.com with the followings;
All names of attending guests
Name of account holder
Member or Non-Member
ESCCK will send you an e-mail with the receipt for your payment.
Venue:
Google maps:
NOTICE
Purchase through reservation only. Purchase at the venue will not be available.
Refund not accepted during last 3 days.
No show not refundable.
bulerias de jerez
ESCCK
flamenco seoul
juan manuel moneo carrasco
manuel moneo carrasco
maria franco san jose
seoul flamenco
spainagain
Spanish chamber of commerce
Spanish chamber of commerce in korea